Tapes N' Tapes with Annuals and Dosh
Oct. 31st at the Black Cat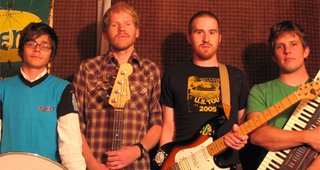 I'm not a numbers guy like Jimbromski so I can't mathematically prove what makes for a good show. I do know parts of the formula though: a good album (The Loon by TNT is one of the year's best), a festive evening (Halloween), highly regarded openers (Dosh and Annuals), and Potsy's absence. All signs pointed to a great concert when Tapes N' Tapes came to town. A can't miss evening, right? Well, not exactly.

Let's discuss these "highly regarded openers" first. Dosh opened the evening and I went up to catch a few songs. I was impressed. His one man, multi-instrumented performance was unique and definitely very cool. He has an electronic, rootsy, hip-hop, rock, keyboards, and drums thing that he does. Whatever it is, I like it. Plus, he was friendly as Flanders. I appreciate polite indie rockers.




Annuals were a big disappointment. I was tipped off to this when a drunken kid with a thick Boston came into the bathroom and said, "Oh my Gaaawd! These guys saaack!". Well, he was right. The whole show was total cock rock. All 5 guys in the band were shirtless and thrashing their long hair around. As Jimbromski said, "Put your shirts on. This isn't gay porn." The songs were Spinal Tap-esque. One of my favorite band gimmicks is the dual drummers. Annuals even managed to mess that up. We were all happy when their set was over. Rock Club Rating: 2.7

Speaking of disappointments, I was less than impressed with the costumes we saw. First, there was a dearth of sexy outfits. Not a single hot nurse to be found. One costume was so lame, the girl actually wrote what it was on her chest so people would know: "Dead Cat" . Lame, but not as lame as the guy in the Star Trek uniform. Yeah, I'm sure you borrowed that from a friend. Sure you did!


Onto TNT. Being fun loving guys, the band dressed up for the holiday. The lead singer was Tyrone Biggums (character from the Chapelle Show), the keyboardist/Tambourine Man was Superman, the drummer was Tommy Lee, and the bassist was a Referee. They had a strong start with a two songs off their excellent album, The Loon. "Insistor" was especially good, but after that things went south. The middle section was a milquetoast performance. The band couldn't seem to muster the Rock I was hoping for.

The show dragged until they finished with their two best songs, "Cowbell" and "Jakob's Suite" (which you may recognize from those annoying 7 Days In A Nissan Sentra commercials). We opted against staying for the encore which I heard was really bad. Some sort of white-boy rap. We were correct to leave Costanza style - on a high note.

It wasn't a great show, but I'm not going to slam them either. Rock Club Rating: 5.7